has been added to your cart!
First time user? Your account will be automatically be created after purchase. Please note:

--Webinars require continuous attendance on the date(s) offered to receive PDAs/CEUs. If you cannot attend, please consider a self-paced distance-learning version instead, if available, or another class that you will be able to attend.
--Ebooks are included with class purchase--please do not purchase both. When purchased separately, Ebooks are for informational purposes only--no PDAs/CEUs.
Questions? Please visit our FAQ page. Thank you for your purchase!

---
Integrative acupuncture treatment of the  经 筋 jing-jin ("sinew meridians" or myofascial tracts) can result in rapid and lasting tissue changes and objectively-verifiable improvements in function that patients, referring physicians, and insurers are looking for:
Decreased muscle-tendon pain and tension, and improved strength and function.
Decreased joint pain and enhanced stability and biomechanics.
Increased flexibility and range-of-motion.
Restored sensory, motor and proprioceptive function.
Review of the structure and functions of the yangming (superficial anterior), taiyin (antero-medial) shaoyin (deep axial) and jueyin (postero-medial) jing-jin.
Comparison of ancient sources with contemporary dissection studies and functional analyses of myofascial tissues.
Review of the bony attachments and kinematic chains of muscles, tendons, ligaments and fascia along the yangming and 3 yin jing-jin.

Anatomical charts of myofascial referred pain patterns, including muscle attachment sites and functions, innervation, and trigger, motor and Chinese new/miscellaneous points for over 40 muscles.
Clinical significance of postural vs. phasic muscles and balance between agonist/antagonist muscle groups.
Clinical assessment of the movement, strength, and joint stabilization functions of the jing-jin (live class only)
Treatment of jing-jin injuries and pain with classical and contemporary acupuncture, manual, and exercise therapies.
Classical needling methods for treating the jing-jin, including "crack needling," "short puncture," "superficial puncture," hegu puncture, and shu-point/osteal puncture.
Myofascial trigger point and prolo-acupuncture along the jing-jin, including safety techniques for needling for difficult structures:

Knee anterior and posterior cruciate ligaments (live class only)
Psoas major and iliacus
Scalenes and sterno-cleido-mastoid
Pectoralis major and minor
Lateral abdominals and rectus abdominus
Muscles of the femoral triangle
Spring ligament and tibialis posterior tendon (live class only)
Carpal and tarsal tunnels (live class only)

Gua sha, tui na, cupping, stretching and therapeutic exercises (live class only)
Suggested Class Preparation
Prior review of clinical musculoskeletal anatomy and kinesiology (bones, joints and their planes of motion, ligaments, tendons, muscle attachments and functions, innervation) of the posterior and lateral body, as well as of traditional descriptions of the jing-jin, is recommended in order to make the most of this learning opportunity. Students are advised to bring their own familiar clinical anatomy reference (on-line or text).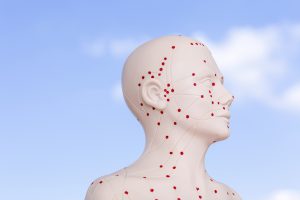 Texts that will be referenced in this class include:
Acupuncture: A Comprehensive Text. Shanghai College of Traditional Chinese Medicine. O'Connor and Bensky, trans. and ed. (1981)
Chen, Eachou. Cross-sectional Anatomy of Acupoints.  (1995).
Kendall, Kendall and McCreary. Muscles: Testing and Function, with Posture and Pain.  (any edition)
Kendall, Donald E. The Dao of Chinese Medicine: Understanding an Ancient Health Art. (2002)
Legge, David. Jing Jin: Acupuncture Treatment of the Muscular System Using the Meridian Sinews.  (2010)
Meyers, Thomas W. Anatomy Trains: Myofascial Meridians for Movement Therapists. (2009)
Simmons, Travell, Simmons and Cummings. Myofascial Pain and Dysfunction: The Trigger Point Manual, vols. 1-2. (any edition)
Student Ratings and Comments
from evaluations as required by California Acupuncture Board, prior live class offerings in 2017.

Respondents: 20 of 22 enrolled
Average rating: 98/100
"Courses should be taught as part of entry-level core curriculum instead of a post-graduate course. The instructor is very knowledgeable and very good at making complex, important information simple, understandable, practical, accessible, and useful. It unveils the mystery of Chinese medicine and makes it scientific and traditionally accurate."  --Anonymous
"Well-spoken, clear instructor. Clinically relevant."  --Anonymous
"Clear, engaged demonstrations. Great flow."  --Anonymous
Next offering: TBA. Please let us know of your interest in a distance-learning class.