---
Integrative acupuncture treatment of the  经 筋 jing-jin ("sinew meridians" or myofascial tracts) can result in rapid and lasting tissue changes and objectively-verifiable improvements in function that patients, referring physicians, and insurers are looking for:
Decreased muscle-tendon pain and tension, and improved strength and function.
Decreased joint pain and enhanced stability and biomechanics.
Increased flexibility and range-of-motion.
Restored sensory, motor and proprioceptive function.
Review the structure and functions of the taiyang (superficial posterior) and shaoyang (lateral) jing-jin.
Comparison of ancient sources with contemporary dissection studies and functional analyses of myofascial tissues.
Review of the bony attachments and kinematic chains of muscles, tendons, ligaments and fascia along the taiyang and shaoyang jing-jin.
Clinical significance of postural vs. phasic muscles and balance between agonist/antagonist muscle groups.
Clinical assessment of the movement, strength, and joint stabilization functions of the jing-jin (live classes only)
Anatomical charts of myofascial referred pain patterns, including muscle attachment sites and functions, innervation, and trigger, motor and Chinese new/miscellaneous points for over 30 muscles.
Treatment of jing-jin injuries and pain with traditional and modern acupuncture, manual, and exercise therapies.
Classical needling methods for treating the jing-jin, including "crack needling," "short puncture," "superficial puncture," hegu puncture, and shu-point/osteal puncture.
Myofascial trigger point and prolo-acupuncture along the jing-jin, including safety for needling for difficult structures:

Quadratus lumborum
Iliolumbar, posterior sacro-iliac and sacro-tuberous ligaments (live class only)
Cervical and lumbar facet joints (live class only)
Upper trapezius and levator scapula
Triangular fibrocartilage (live class only)

Gua sha, tui na, cupping, stretching and therapeutic exercises (live class only)
Suggested Class Preparation
Prior review of clinical musculoskeletal anatomy and kinesiology (bones, joints and their planes of motion, ligaments, tendons, muscle attachments and functions, innervation) of the posterior and lateral body, as well as of traditional descriptions of the jing-jin, is recommended in order to make the most of this learning opportunity. Students are advised to bring their own familiar clinical anatomy reference (on-line or text).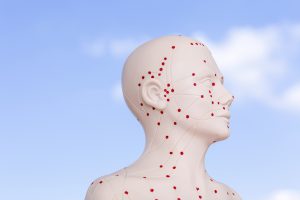 Texts referenced in this class include:
Acupuncture: A Comprehensive Text. Shanghai College of Traditional Chinese Medicine. O'Connor and Bensky, trans. and ed. (1981)
Kendall, Donald E. The Dao of Chinese Medicine: Understanding an Ancient Health Art. (2002)
Legge, David. Jing Jin: Acupuncture Treatment of the Muscular System Using the Meridian Sinews.  (2010)
Meyers, Thomas W. Anatomy Trains: Myofascial Meridians for Movement Therapists. (2009)
Simmons, Travell, Simmons and Cummings. Myofascial Pain and Dysfunction: The Trigger Point Manual, vols. 1-2. (any edition)
Student Ratings and Comments
from evaluations as required by California Acupuncture Board, prior live class offerings in 2016 and 2017.

Respondents: 34 of 39 enrolled
Average rating: 99/100
"Very articulate and precise…great 1-on-1 attention."  –Jessica Giese-Garderner, L.Ac.
"Amazing–Thank you!"  –Jessica Luehrs, L.Ac.
"This class was a really great review as well as including new material" —Daniele Uzes, L.Ac.
"Great knowledge of anatomy, very in-depth. Thank you for adding to the written notes on-line…I really appreciated Anthony's in-depth clinical experience and his willingness to share..I'm taking more classes!!!"   –Monica Bowditch, L.Ac.
"Tons of great info, many applicable tools, with some practice indeed…great for sports acu/pain/ortho." —Joe Sarti, L.Ac.
"I especially enjoyed reviewing anatomy whilst doing practical exercises to improve my skills…very good explanations…great that notes are digital and linked." –Michael E. Brown, Jr., L.Ac.
"Excellent visual, written, learning aids, skeleton, slides…more explanation of pictures in written notes would be helpful…great for experienced practitioners…Looking forward to seeing video footage of up-close needling techniques, ACL/PCL would be good to see on video…This class was excellent!" –Tamara Brown, L.Ac.
"I like the charts and photos, this is truly useful!" —Anonymous, L.Ac.
"Excellent!" --Anonymous
"I learned a lot. Anthony is very knowledgeable."  --Anonymous
"I wish I had taken this when I got my license in 2006." —Anonymous, L.Ac.
Next offering: TBA. Please let us know of your interest in a distance-learning class.